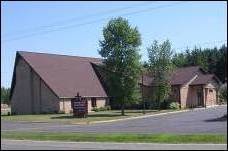 Immaculate Conception Catholic Church
Grantsburg, Wisconsin
Our History
Prior to the 1850's our area was occupied by Native Americans, some logging operations, a few adventurers and U.S. Government surveyors. We were part of the Diocese of LaCrosse until 1903 when the Diocese of Superior was formed.
The first missionaries from Ashland and Bayfield came in 1878 and were located in the Trade River area. Father Oderic would converse with the Native Americans of the Ojibwe tribe so he was in demand by them. The priests stayed in tents when they visited the area.
By the late 1800's there had been a number of conversions among the Native Americans. In 1890 a parcel was purchased and the Sacred Heart Chapel Mission Church was established. It was small.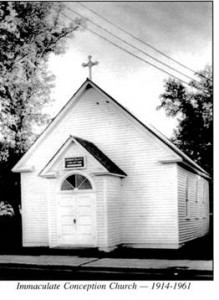 Best known among the Indians was George Holmes.  He was Father Oberic's faithful Catechist.  He became Catholic and his love for his faith was so great that he began to instruct fellow men of the teachings of the church.  In case of necessity, Mr. Holmes baptized the dying and buried the dead when Father could not come.  The Holmes CatholicIndian Cemetery remains on the grounds of the chapel.  This mission was closed in 1920.
The Immaculate Conception Church was founded in 1909.  Services were held in private homes and in the Antler's Hotel.  In 1914 a building on W. Broadway Avenue was purchased from the Swedish Evangelical Congregation for a cost of $850.  It was wired for electricity and had one ceiling light and no plug-in outlets.  A communion rail was procured from a closed Lutheran church.  Missionary priests from Bayfield, Superior and Ashland served IC on an occasional basis.
In 1919 Fr. Ignatius began to serve 6 parishes in the area and Saturday Mass was offered every two weeks.  The priest would come on late Friday afternoon and stay overnight at a local parishioner's home and would say Mass at 9 a.m. Saturday.  Father would then go to breakfast at a Parishioner's home before returning to Webster.  A Russian family left the area in 1930 and gave their pump organ to the church so we now had our first music and singing.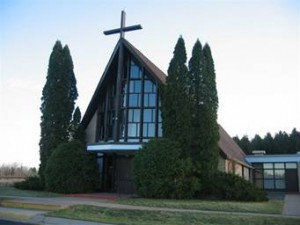 In 1934 IC was without a priest so Father Wey from Sacred Heart in Rush City, Minnesota would board the train called the "Blueberry Special" to come to IC to say Mass.  In 1935 Fr.Keil was appointed as IC's new pastor.  He acquired an oil cook stove and a cot and set up housekeeping in the basement of St. Dominic's in Frederic.  Someone from IC would pick him up for the 9 a.m. Mass.  After he left we were again without a priest.
In 1938 Fr. Fries was assigned as our first full-time pastor.  The Clam Falls mission was closed and the altar was brought to IC.  In 1950 Father Anton was appointed as pastor.  He helped with the planning of our present church which was built in 1961 for a cost of $89,399.  The first Mass was said on December 25.
A class room addition was built on to the church in 1989.  In 2005 another building project was completed.  This project included the addition of an entrance, gathering area and bathrooms and moving the altar from the south end to the north end of the church.  This project made our building handicapped accessible. Members of IC volunteered to do as much of the work as possible.  The pews were refinished and installed facing the opposite direction.  Stained glass windows were constructed by a church member.  Our parking lot has been enlarged and paved.  Our new facility is very functional and is enjoyed by our parishioners and visitors.